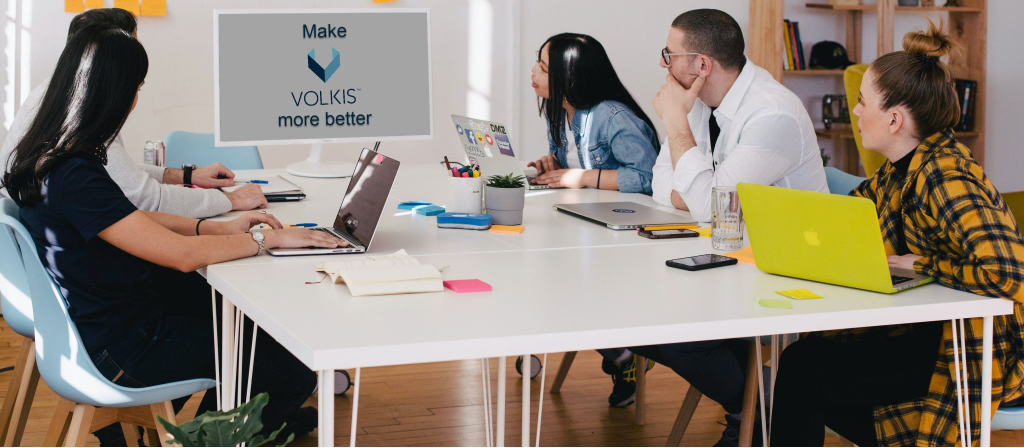 Posted on 2022-02-04 by Matt Strahan in Volkis News
---
A few weeks ago we had an internal strategy session with everyone at Volkis. In this session we only discussed four questions:
What does Volkis do well?
What can we improve?
What are pain points that could be taken away?
What does Volkis stand for?
While usually when companies do this they would keep it close, especially the "what can we improve" section. Transparency, though, ended up being something that everyone liked and wanted us to keep doing. In this spirit, everything we talked about in that session has been uploaded to our handbook as The State of Volkis.
What should change and what should stay the same?
When putting together the plan, it's tempting to just focus on what we can do better. It ends up being a brainstorming session saying "what are we doing wrong and how can we do it right?"
While that is important, it's much easier to keep on doing something than it is to take up something new. Just as important as what we should change is what we shouldn't. Even though we're a new company there's a lot of things that, through experience, hard work in the right spots, or just plain luck, we have managed to just do well right away. We need to keep this stuff in mind so we keep doing it.
Getting the rubbish out of the way
We also asked about pain points and annoying parts of the job. For us this is a huge thing to minimise. Any annoyances just tend to get in the way of doing our work and doing what we enjoy.
This will be part of a regular thing and already threw up some ideas at how we can take those annoyances away. The great thing about annoyances like that is that they always tend to be close to the top of your mind at all times and working together there is usually a decent solution that just makes things easier.
What do we stand for?
If you ask myself or Alexei about what Volkis stands for we'll have a lot to say. You'll probably tell us to shut up before we shut up ourselves. There's a difference, though, between saying it and actually writing it down for everyone to see.
When thinking about the two founders of a company writing down "what this company stands for", there's the reality that comes into play that it's not just us any more. The Volkis name and brand now means something to other people. For the people who work here it's part of how they will be seen by others in the community and by future employers. This means what Volkis stands for isn't just for us to decide but we need to all decide together.
In this part of the session we got a lot of good information. Luckily, the answers weren't far off from what Alexei and I already felt. It gave us a great start for putting together our first version of Volkis Values. More on this in a future post!
Improving and getting rid of annoyances
The State of Volkis session allowed us to form a plan to get better:
Write guidelines and process documents in our handbook: We're going to fill the gaps in documentation that currently exist. We've already started with our reporting process.
Build a round robin QA process: We're in the process of building a QA process that can integrate with our systems so that QA is easier and fairer.
Build a feedback process for clients: We will likely use an online form that can be sent to clients after a piece of work is finished. This can be automated on project closure with our toolset.
Blog posts, videos, and marketing: We're kicking back up with pushing out information. For example…this.
Simplify process for updating pentest docs: We're going to be trialing a batching process where we just go through all the reports each month for updating pentest docs.
Why are we publishing this?
I'm sure it's quite unusual for a company to publish not only what they do well but also what they do badly. For us it's important that we do just that. We want clients to know what they'll get when they work with us. We'd also like potential employees to know what we're like before they join. Overall, we're proud of where we're at and we're confident enough in what we do that we're willing to show it all.
If you'd like to see, have a look at The State of Volkis.
---
About the author
Matthew Strahan is Co-Founder and Managing Director at Volkis. He has over a decade of dedicated cyber security experience, including penetration testing, governance, compliance, incident response, technical security and risk management. You can catch him on Twitter and LinkedIn.
Heading image based on photo by Jason Goodman on Unsplash
If you need help with your security, get in touch with Volkis.
Follow us on Twitter and LinkedIn